Sorry folks, this will be a long one.
First let me tell you about the finalization itself. Smooth as silk! A wonderful process by the attorneys and judge as usual. The judge and guardian ad litem are always especially sweet. When the judge said she felt that Chelsi becoming a part of our family was in her best interest I lost it. How could I not cry? Everyone now recognizes that she's ours. Ours forever! Thank God for this little girl!
No decorations on the courthouse tree yet, but 3 years ago we stood here, so we had to this time too. :)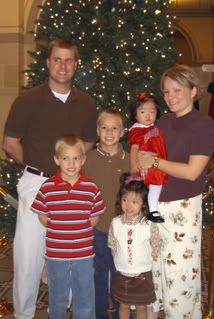 Our family behind the bench.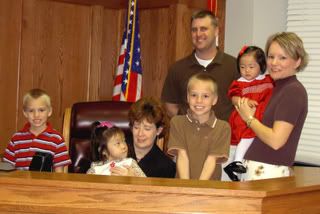 Now to the unpleasant part of the day. We thought 1 hour to run to vital statistics to get her birth certificate and then onto social security to change her name to her legal name on her card....no problem. We wanted to get the boys back to school in time for lunch after that hour. Well, that just wasn't going to happen. Our vital statistics workers don't know anything. I could be much ruder here and want to, but this is a family blog! Basically, I brought in the court order and they took 1 hour to finally come back and tell me they couldn't find the court payment from March. So they tell me I should call the court....they'll get the number and be right back. 5 minutes later I see a phone and phone book in the hall so I go out and get the number and call myself. In 5 minutes I had the answer that the law had changed in late 2004 and the reason they couldn't find a court payment was because we were just supposed to pay when we brought in the court order. Okay and the Dept. of Health workers don't even know the law that affected their very business for over 1 year! That's just pitiful and I made them very aware of that. State customer service at it's best. I think that very department hoards all of the most inept workers in the entire state all to itself.
Meanwhile, after begging them for our original adoption decree back (no, dept of health you cannot keep this!!) I sent Brian to social security to do the name change. No problem...he was back in 20 minutes. Me....still waiting. After they told me it was done they had yet another problem and couldn't get it for me. Finally, they get it and the name was incorrect. 1 1/2 hours later I finally had it in my hand. We took all the kids to McDonald's for happy meals. I think they deserved it after sitting in the van and going weherever with us for all that time.
All that's left to do is fill out the immigration paperwork for her certificate of citizenship. Thank God we'll be done after that.
And that, folks is how to do an adoption from start to very finish in 1 year and 2 months. Not bad, not bad at all.
This day will always be very special to us. We won't remember the birth certificate headache, fiasco, but we'll always remember the judge's words and how they truly understood in that courtroom just how much we loved our daughter and they were now legally, making her ours forever.
Thank you to all who were there today. Thank you to the grandparents for taking off work to join us. You all are very special to our family and your granddaughter.